A GROUP WITH A GREEN SOUL
All the extrusion solutions dedicated to the production of film, foil and sheet in a single Group.
In 2019, thanks to the common goal in developing new technologies, a new synergy was born in the extrusion field:  TECOM becomes part of UNION family, expanding the Group portfolio with solutions for production of film, foil, both rigid and expanded sheet and honeycomb profiles for different application fields.
The world of plastics materials, which continues to evolve, today requires new generation products to meet the demand for recyclability, biodegradability and compostability.
A group with a GREEN soul was created. For several years UNION has been involved in the production of recycling plants for post-industrial waste or post-consumer waste collection. 
TECOM, since the early 90s, undertook the development of blown film extrusion lines for eco-sustainable polymers registering its own GO-BIO trademark which makes its GREEN evolution unmistakable, signature which can be easily found on its extruders since last 20 years.
TECOM represents one of the main characters of the GREEN evolution, one step ahead in the employment of biodegradable and compostable materials, as well as recycled materials for circular economy.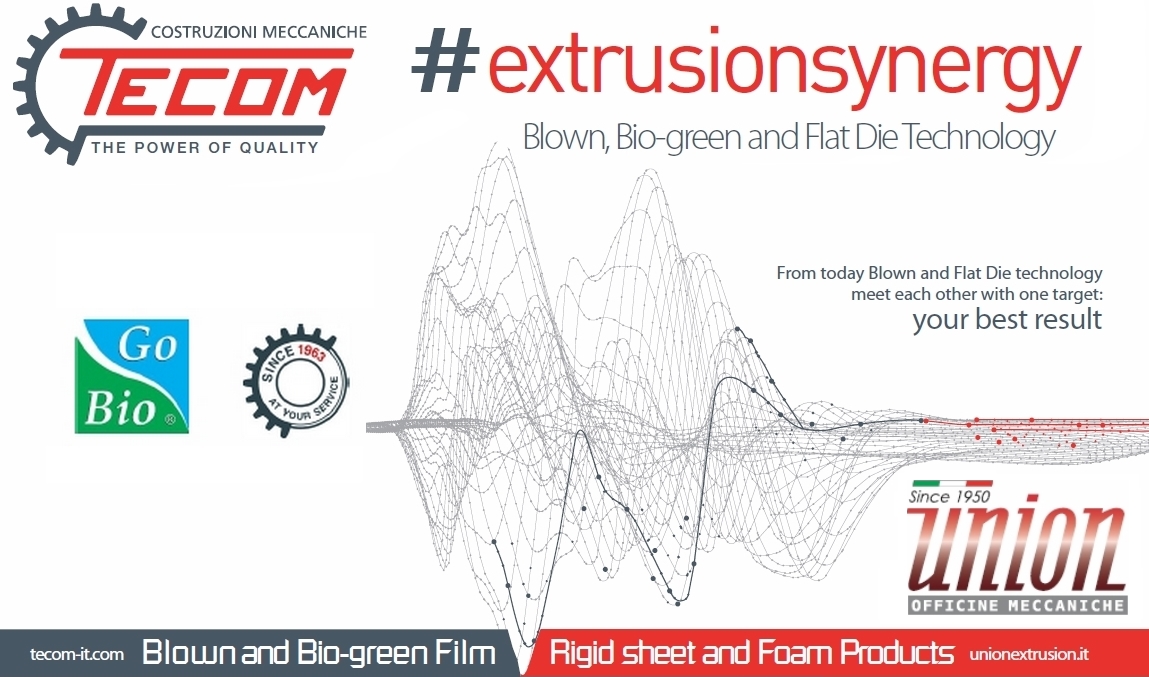 Company founded in 1963 as a manufacturer of textile machines, TECOM approached the market of producers of blown film extrusion lines since the early 70s. For several years the company has specialized in the production of small lines called monobloc and medium-sized extrusion lines

TECOM's philosophy is based on the reliability over time of its blown film extrusion lines. Over the years, we developed extrusion lines with ever greater technological content, increasing productivity and processing quality, minimizing energy consumption

TECOM's philosophy is based on customer service and extrusion lines customization. Thanks to a trained team of designers and technicians, to state-of-the-art IT systems, TECOM is able to offer a wide range of extrusion lines characterized by strong customization, constant innovation and high quality standards, in line with the International Regulations.